Razer Game Booster
3.5.6.22
Breathing space
Razer's market position is somewhat hard to define. Their products range from software solutions for gaming to computer systems and gadgets. There's no doubt however that they want to associate themselves with hardcore gamers. otherwise why would they use the famous Interplay tag line "By Gamers, For Gamers" (in reversed order)?
With Game Booster, Razer actually proves that they care about the regular gamer, by offering a free tool that automatically optimizes your computer, to better handle games. Immediately before launching a game, Game Booster will shut down unnecessary processes and services so that more memory and processing power can be allocated to the game that's being launched. These settings can also be done manually, but with this app, you will have a clear picture of what can be optimized without trudging through forums and searching through Windows settings. The optimization can also be configured. For example you might want to keep some processes running, or force the browsers to close while playing. This feature is enhanced in the Tweaks section, where you can check or uncheck specific system tweaks, or simply import them.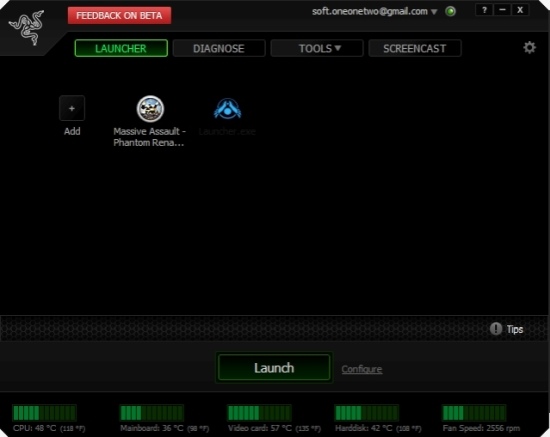 Besides Tweaks, Game Booster can also update video drivers and also perform localized defragmentation, focusing on your game files, which hopefully will make them load faster. I say hopefully, because you never know how much of the loading time is due to fragmentation or simply because of your aging computer.
The same goes for pre-launch optimization. Running a game with Razer Game Booster on, will unleash some more performance from your rig. However, don't expect miracles. It might be just enough for a higher video resolution or to enable that one video option that is usually too much to have a smooth gaming experience. In order to enable this boost you will need to add the game's shortcut to the Game Booster launch window. This will remove the shortcut from your desktop (this just so you'll know). However, you don't have to add all games into Game Booster. By default, the optimization process will begin whenever a game is launched from Steam also.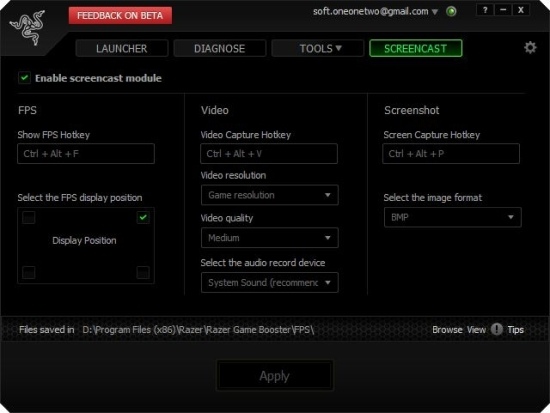 Beyond higher quality gaming, Razer Game Booster also has a screen cast function. When enabled, you can begin and end video recording using custom key combinations. You can also take in game screen shots in the same way.
With Diagnose, Razer Game Booster creates system diagnostic which contains useful diag information.
Features
On demand system optimization
System diagnostics
Defragmentation
Driver updates
Screen recording
Conclusion
Razer Game Booster is still in Beta at the time of writing this, but as it seems, the platform is stable and works as intended. The amount of options included are very well chosen for actual performance optimization and the screen cast option is a very welcome bonus.
---
Add a review
Tell us your experience with
Razer Game Booster
3.5.6.22
RELATED PROGRAMS
Our Recommendations
---
---
---
---